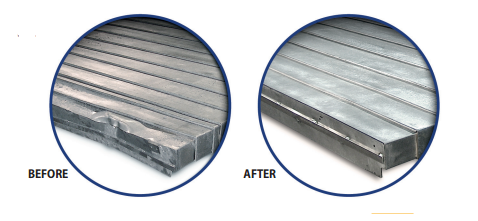 A. LAWRENCE WAY COVER SERVICE & REPAIR • Service & Repairs for Way Covers • Repair & Refurbishment of All Way Cover Components •  Quick Turnaround & Expedited Service Available • Reverse Engineering of Existing Way Covers • On-Site Maintenance & Repair
Have a way cover in need of repair? Fill out our Way Cover Repair Form and we will contact you within    1 – 2 business days.
Currently in stock:
Z axis way covers to fit Makino ® model A-55, A 55-PLUS and A-55 Delta
Y axis way cover panels to fit Mori Seiki ®, Makino ® A-55,A-66 and A-77, Mazak ® FH-6800,Hyundia  Wia ® HS-6300
Not sure if your way cover can be repaired? Send us your information for a no charge evaluation. We will respond within 48 hours.